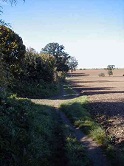 Rooks Nest House, was a beloved home to both E M Forster and Elizabeth Poston.  He lived there with his widowed mother during his young, formative years of four to fourteen and there, educated at home, he set deep roots, exploring the neighbouring countryside and developing an interest in gardening – including growing tall red poppies – especially enjoying identifying the local flora. In his earliest known teenage writings he said 'the surroundings of the house were altogether very pretty, first and foremost the fine view'.  His affection for his home was profound since it represented stability and security and so he was distraught when he had to leave it to be educated away, first in a boarding school at Eastbourne and finally as a day-boy at Tonbridge in 1893. His mother had socialised with the local gentry including Charles Poston and family, recently arrived at a nearby large Georgian Manor, called 'Mallows' but later renamed 'Highfield'.  The family made a lasting impression on the 7-year old Forster.
Charles's wife died in 1900 and he remarried – the much younger Clementine – whose beauty and gentle personality captivated Forster when he travelled down from Cambridge and visited Highfield briefly in 1907.  Clementine's first-born, Elizabeth was just a year old at the time, but as a child she later had an indirect acquaintance with him through inheriting one of his dolls, christened 'Morgan'!  To be truthful the doll was not very popular and, when given away to a needy neighbouring child, involved a certain amount of tossing to and fro over the garden hedge! 
Forster's Howards End, published a few years later, in 1910, reflected very strongly his connection with the world of his childhood.  In its first few pages he reiterates, 'the views marvellous – views westwards to the high ground'.  There is also a clear connection between his fictional characters and aspects of people he knew in his youth, including Clementine (who we can identify in Howards End as Ruth Wilcox, the first wife of Charles).