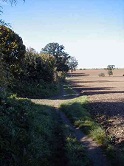 The John Hepworth Memorial Lecture will be held on Saturday, November 12th at 2.30 p.m. in the Council Chamber of Daneshill House. The speaker will be Margaret Ashby(MA MCILIP Dip.Ed.) and the title of her talk, to coincide with the Seventieth Anniversary of the New Town's conception, is 'Stevenage First and Best'.
There is no increase in the ticket price which remains £3. Tickets may be obtained from Angela Hepworth, 1 Gloucester Close, Stevenage, SG1 3RQ; telephone 01438 351462; e-mail This email address is being protected from spambots. You need JavaScript enabled to view it. or from any committee member, or purchased at the door on the day.
An inspector has now been appointed to examine the SBC Local Plan, but no dates have been set. We have not yet been given a name for the Inspector but the SBC appointed Programme Officer is Louise St John Howe. She can be contacted at SBC if you would like to seek any details. We believe that the inspection will take place in early 2017.
The Local Plan that was at draft stage in January 2016 and which received many comments from the public has been submitted without amendment. We feel that this is somewhat surprising as we are aware at least of factual inaccuracies.
As reported previously, the Plan does include the effective destruction of Forster Country. We have asked for oral hearings at the Inspection and are preparing our case for the defence. There is discussion going on about employment of a professional lawyer to help us but we have limited funds to fight on a protracted basis.
We remain hopeful that the Inspector will be sympathetic to our position.
At the AGM we launched a new booklet on Forster Country with contributions from some patrons and from our chairman.  The Foreword is by Ronald Blyth, acclaimed rural living writer, best known for Akenfield. There are many illustrations, all but historic ones in colour.  It was edited by our co-founder Margaret Ashby, herself a patron and recently winner of the CPRE Peterkin Award.


The best way to get this is from a member of the committee. 

It is also available from Stevenage Museum David's Bookshop in Letchworth or CPRE Welwyn. 

 
Failing that it can be ordered from our Treasurer, Mrs Angela Hepworth at 1, Gloucester Close, Stevenage SG1 3RQ with a cheque for £3.50 payable to Friends of the Forster Country, which includes p&p. 
Enquiries via the Contact Us button on this website.
We thank Nicola Beauman of Persephone Books for inspiring and sponsoring this project
More News Items