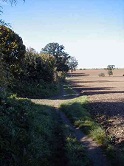 We are commemorating the 70 years since Stevenage became a New Town with a walk round the area E M Forster loved, as yet relatively unaffected.
Meet at the lychgate entrance to St Nicholas Church, Rectory Lane SG1 4DA for 2pm

The route celebrates the area north of pre-1946 Stevenage. We will pass Rooks Nest House, home to E.M. Forster and the setting of Howards End. Then we walk over private land to Chesfield to see the ruined church and remember the Seebohm family. The return is on public footpaths.
Total distance less than three miles but some sections are over rough ground. Probably two hours, perhaps longer for slow walkers.
Enquire by Phone: Stevenage 230819 or by using the Contact Us form on this website.

Courtesy reminder: Whilst there is currently no event scheduled to be at the Church on the day, this may change. If you arrive and see evidence of a wedding then please avoid parking close to the Church.
Many thanks to the three landowners who are allowing us to cross their land.
Since the December 2015 edition of our Newsletter there has been much activity by our Committee and by many Friends of the Forster Country members. A small group of us met with Cllr John Gardner, Deputy Council Leader and Leader for Housing, Zayd Al-Jawad, Head of Planning and Engineering, Richard Javes, Planning and Transport Policy Manager and Deborah Horner, Senior Planning Policy Officer, all of Stevenage Borough Council. We have also held meetings with our MP Stephen McPartland and with North Hertfordshire County Council. A meeting with Peter Lilley, MP for Hitchin and Harpenden, is to take place on 18th March.
As you will all know, the two councils in question are planning to build 1,800 dwellings on Forster Country and the purpose of these meetings was to increase our understanding of these plans and to improve our approach to responses to them. The FoFC Committee drew up and sent in 38 individual representation forms each covering a different aspect of the Plan. In particular the attack on our Green Belt was criticised and the basis of the overall housing numbers was challenged.
The Peterkin Award for a Rural Living Champion is presented annually to an adult who has made an outstanding contribution to rural living in Hertfordshire. This year there were six nominations. We are very pleased to announce that Margaret Ashby (co-founder of FOFC and currently a patron) was given this award at the 2015 CPRE Rural        Living Awards Evening at County Hall, Hertford, on 20th October. http://www.cpreherts.org.uk/  
Margaret was recognised for "her determination and dedication in ensuring the protection of a precious area of Green Belt known as Forster Country" for over thirty years. The judges' citation went on to say that "it is very unlikely that, without Margaret's energy and enthusiasm, this piece of countryside would still be undeveloped."
The original drafts and recordings of Elizabeth's music, once performed or published, found their way into her attic at Rooks Nest House, together with programmes, newspaper cuttings, correspondence and photos.  This was because they were finished and also she was wary of dealing with publishers, having had occasion in the past to fight them hard in order to receive fair play.
Towards the end of her life she met Malcolm Williamson and his partner & publisher, Simon Campion, and decided that he should be her literary executor and copyright holder, expressing in her will the hope that he would give all manuscripts of her musical and literary works to a suitable trust for safe-keeping.
In 2013, some 100 box files of written material, mainly correspondence, were duly catalogued and deposited at The Hertfordshire Archives and Local Studies (HALS) at County Hall, Hertford and now, all the available music (nearly 300 items) has been checked and recently deposited at the Music Department of the British Library.  So Elizabeth's dying wish for the safe-keeping of her archive has been largely fulfilled.
More News Items