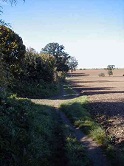 We recently held our AGM in the Stevenage Borough Council Main Chamber. Thanks are due to SBC for their hospitality.
SBC produced a revised Local Plan which was issued to the general public on 12th of June and in our opinion included little significant change. We sent in one representation relating to this within the 6 week consultation period and we believe that the Plan will by now have been re-issued to the Inspector. The Inspector will return the Plan to SBC as "accepted" "accepted with minor modifications required" or "accepted with major modifications required" during October.
The SBC Executive will then formally accept or reject the Inspector's findings before seeking a full Council mandate for their decision towards the end of the Year.
Following this we are assuming that formal planning permission will have to be sought for actual implementation and that there will be a further opportunity to defend Forster Country. But we are currently looking into the process.
We are also contesting the approach taken in the Local Plan in dealing with Previously Developed Land (PDL, known colloquially as brownfield). To this end we are in the process of writing formally to the Inspector saying that the Icon Building at the junction of Lytton Way and Fairlands Way (formerly the Eagle Star office) with its possible potential for 540 dwellings was not properly considered and that this therefore could apply in other parts of Stevenage.
We remain hopeful that our arguments have had some effect and that Forster Country can still be saved.
 A longer report, with reports of other activities of the year and committee changes, will be appearing in our Newsletter which will be available on this website.
At the AGM 2016 we launched a new booklet on Forster Country with contributions from some patrons and from our chairman.  The Foreword is by Ronald Blyth, acclaimed rural living writer, best known for Akenfield. There are many illustrations, all but historic ones in colour.  It was edited by our co-founder Margaret Ashby, herself a patron and recently winner of the CPRE Peterkin Award.
This year marks 50 years since the decriminalisation of homosexuality in this country and the anniversary has been celebrated widely in the media and in the gay community. We cannot let this pass without wondering what difference this would have made to E M Forster's life and work.
Forced to conceal his sexuality in his conventional, middle-class family and judgmental society, his literary expression may also have been repressed. 'Maurice', his only attempt to write about same sex love, was written in 1914 but only published posthumously, in 1971.  Apparently this was his wish.
Said to be modest and retiring by nature, he would not have wanted to upset or even outrage; he evidently lacked the audacity of the Bloomsbury circle with whom he was friendly or maybe was more philosophical about his situation.
His last novel 'A Passage to India' was published in 1924, when he was 45, and for the rest of his life - he died aged 92 in 1970 - he produced non-fiction and made broadcasts. He maintained a high reputation, was nicknamed the 'holy man of letters', but despite this was not awarded a Nobel Prize for Literature. Perhaps he would have been had his imagination not been fettered by the law of the land. What did he think when it was reformed three years before he died? Did he even care?
More News Items