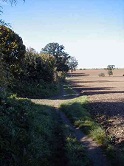 The Minister of Housing etc has written to Stevenage BC including the words
"the Secretary of State hereby directs your Council not to grant permission on this application without specific authorisation. This direction is issued to enable him to consider whether he should direct under Section 77 of the Town and Country Planning Act 1990 that the application should be referred to him for determination."
This application is the for 800 homes on Forster Country
For the full letter go to this website then click on the letter dated 25 Feb 2020
https://publicaccess.stevenage.gov.uk/online-applications/applicationDetails.do?activeTab=documents&keyVal=P0MVJWPH08E00
It has been great to see people exercising in Forster Country during the Covid19 crisis.  Thank you Brendan for these.  For more photos, go to www.facebook.com/groups/438854833187425.
It is now well known that at the Stevenage Borough Council (SBC) Planning Meeting held on 4th February 2020 the Bellway-Miller outline planning application for the housing development on Forster Country was passed narrowly, we believe by 7 votes to 5. This is a very sad time for us as fighting this into the future will now be incredibly difficult. We remain of the view that the decision was wrong, particularly bearing in mind the reduction in forecast housing requirements published by the Government along with the identification of new brownfield and windfall sites. This is aside from the additional damage to the environment and the desecration of our Forster Country heritage. We would like to thank all who attended the SBC Meeting and the many who have been fighting to save Forster Country over the years. Our next Committee Meeting will be held on 19th February and we will be discussing the way forward. This will include consideration our hope that the outline planning application could be 'called in' by Whitehall and possible action at the detailed planning stage. We will simultaneously try to engage with SBC on the plans for the very small country park that has been built into the Bellway-Miller Plan.