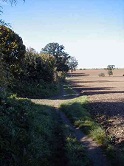 The publication of the Bellway-Miller (BM) revised Outline Planning Application to build on Forster Country submitted to Stevenage Borough Council (SBC) by Savills Estate Agents on 20th September 2019 has stirred many into action. This application is numbered 17/00862/OPM. For those with computers that can be found by using the link https://publicaccess.stevenage.gov.uk/online-applications/applicationDetails.do?activeTab=documents&keyVal=P0MVJWPH08E00.
At the time of writing there have been 428 representations to SBC relating to this application most of which are objections to the proposed development. One formal objection has been that from Hertfordshire County Council's Local Flood Authority (Director of Environment & Infrastructure - Mark Kemp). They have said that the information provided (within the outline planning application) to date does not provide a suitable basis for an assessment of the flood risks arising from the proposed development. They therefore object to the grant of planning permission and recommend refusal. It is possible that BM will require some time to react to this. 
Additionally, an online petition has been started and the number of signatories rose to over 1,000 within a week.
There have also been two prominent articles in the Stevenage Comet pointing out the loss of Green Belt, the reduction in green lung, the loss of heritage and the increase in congestion and pollution.
FoFC have lodged an objection which can be summarised as :-
• The application is unsustainable as it contributes significantly to climate change. These 800 houses will emit 64 000 tons of CO2 in their construction and 11 000 tons each year from now on from the householders. 
• This land has recently been removed from Green Belt protection in defiance of planning law. This was a travesty of justice. 
• Historic England has stated that this land is a heritage asset and should not be built upon. 
• This application would significantly contribute to the urban sprawl of Stevenage. 
• The development is not needed as the Office of National Statistics (ONS) now shows that the UK population growth is slowing. The Stevenage building need is at least 2000 dwellings less than current plans.

Our annual Forster Birthday Walk takes place on Wednesday, 1 January 2020, starting from St Nicholas Church lych gate (Rectory Lane, Stevenage SG1 4DA) at 2 pm.  The walk is about three miles over undulating ground and can be muddy, so wear appropriate footwear.  Unfortunately the church is closed for renovation, so we can't meet there for refreshments as we usually do.
Friends of the Forster Country is non-political but we are delighted that our MP Stephen McPartland, who is currently standing for re-election, has objected to the planning application for development on our heritage green belt land.  He uses those arguments plus the pressure from extra traffic on roads, of extra people on health services etc.  Read it on www.stephen-mcpartland.com  or open this pdf.
We hope that most of our members have sent in their individual comments to Stevenage BC.  Officially the deadline is/was Nov 7th but we expect that any sent soon after have a good chance of being included so don't give up - do it soon.
Our FoFC objection has been submitted and is reproduced below
Read more: Objections to revised Planning Application 17/00862/OPM
Some of Elizabeth's music is soon to appear in an Anthology of Sacred Music by Women Composers to be published in three volumes by Multitude of Voyces.  The first, SATB Anthems will include the already published item Sing unto the Lord, the second, Upper Voices Anthems will contain the hitherto unpublished Te lucis ante terminum, which is the second movement of An English Day-Book, most recently recorded in 2010 on Signum Classics, while Volume 3, Liturgical Works will include the Festal Te Deum, commissioned by St. Matthews Church, Northampton, manuscript of which was discovered only last year, 
Her music will also feature in a concert to be organised by The Peter Warlock Society on 16 May next year at St. Nicholas Church in recognition of the close friendship between Elizabeth and Peter, made clear by the recently discovered letters of his.   
John Alabaster