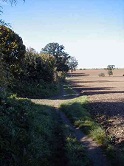 There has been a flurry of media interest in us started by your vice-chairman talking to a journalist.  Here is your chairman talking to Nicola Haseler of BBC Look East.  Her report was aired on Wednesday June 14.
The first article was in the Sunday Telegraph about the threat to land near E M Forster's childhood home.  Next day there was an article in The Times along the same lines but adding the (new to us) fact that eminent people of the time, John Betjeman, Vita Sackville West, W H Auden among others, had expressed their alarm to The Times in the early 1960s about the compulsory purchase of what we know of as Forster Country.
Much has happened since our last Report. As you no doubt know, the Stevenage Local Plan was passed by the Inspector in the Autumn of 2017. Stephen McPartland, Stevenage MP requested Sajid Javid to have the Plan put on hold, pending the possibility of having it called in.
We are now communicating with both Stevenage Borough Council and North Herts District Council. We have held meetings with Stephen McPartland, Stevenage MP, and Stevenage Borough Council (Zayd al Jawad, Head of Planning & Engineering and John Gardner, Deputy Council Leader & Leader for Housing). I believe that our two main hopes now lie with our contention that the local plan examinations are not being conducted correctly and the possibility that the whole Stevenage Plan is called in. As many of you know, we have also objected to the outline planning application by Bellway / Miller to build on Forster Country and have asked local people to do the same in a leaflet distributed to around 1,000 homes.
The walk can be either a short walk from the High Street taking in a little of Forster Country or the mainly open country walk with which we celebrate Forster's birthday on January 1 each year or a combination of both.  The points with letters e.g. point E correspond to points on the map.
You don't have to start the walk at the High Street although the description starts there.  The Birthday Walk section starts at St Nicholas church
After a decade of work on the Poston papers, John Alabaster has produced a glossy book encapsulating much of the previous works. As the title suggests, it is a full list of works published or not, set in a biographical context.  Though more expensive than earlier subsidised works, it is for anyone interested in her or neglected female composers of her era. It is available at Lulu.com page http://www.lulu.com/shop/john-alabaster/elizabeth-poston-catalogue-of-works-with-biographical-context/paperback/product-23663053.html#expand_text