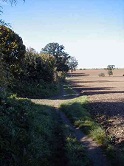 We are so sad and so sorry we couldn't stop these plans for our open space. Stevenage Labour-dominated Council has voted to pave over much of the last remaining fields of E. M. Forster's beloved fields, to create an "urban recreation park" with spoil mound, car park, road network, speed humps, bollards, municipal bins. A literary, cultural, wildlife haven is ruined
It should be possible to build the homes that people need, the community spaces that are accessible to all, the parks and spaces so needed for a good life - and to do so in a way that incorporates ancient meadows and history and biodiversity, and involves everyone in the design.   We tried to argue for the Forster heritage but they didn't listen or agree.
We would like to say Thank You to anyone who wrote to councillors or lodged objections. Thank you for loving the land here as much as we do.
Latest News on our Open Space
We are very disappointed that the updated proposal for the open space below the cemetery 'St Nicholas Meadow' is little changed from the one which the Council's Planning committee rejected earlier in the year. FoFC consider the main reason was to give planners a chance to listen to more consultations as our spokesman urged and we have seen little evidence that they have done that. We have been meeting with developers, HCC & SBC staff
Our hopes for a shared cultural, literary, wild landscape as it was in Forster's time, are still seriously under threat.
We used facebook to alert people to the chance to respond by Oct 24,  by email comments to This email address is being protected from spambots. You need JavaScript enabled to view it. quoting planning reference number 22/00781/RMM
We have sent in a formal response which you can view using the link below.  The plans will go to SBC's Planning and Development Committee soon, possibly the November meeting. It has now been confirmed that this is to be at a Special Meeting of the Planning Committee.  Wednesday 29th November in the Council Chamber at 1830.
We have a new video on tiktok.  If you are not a tiktok member go to
The Times of 14.11.22 has a leading article on Literary Landscapes, supporting out view. 
At the end of Howards End, E. M. Forster's 1910 masterpiece, the author laments that his beloved Hertfordshire countryside, in which the novel is set, is being inevitably consumed by "the rust" of an ever-expanding London. So far, that has not happened, in large part due to the dogged work of tireless campaigners over many decades to prevent the land around his childhood home of Rooks Nest being turned over to developers.
Yet their dream of preserving "Forster country" for posterity is under threat once again, this time from plans by the local council to turn an area of meadow into a landscaped "country park" complete with a car park and toilet block. The plan has attracted opposition not only from local residents but also Historic England, the Oscar-winning actress Emma Thompson, who starred in the screen version of Howards End, and Professor Michael Proctor, the provost of King's College, Cambridge, where many of Forster's papers are kept.
Read more: The Times view on EM Forster's inspiration: Literary Landscapes