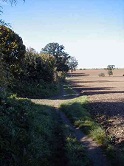 Need some exercise after Christmas?  Join us on a walk on New Years day to celebrate Forster's birthday.  A gentle but possibly muddy tour of the land we call Forster Country starting at 2pm at the main entrance to St Nicholas church, Rectory Lane, Stevenage SG1 4DA. 
There has been a flurry of media interest in us started by your vice-chairman talking to a journalist.  Here is your chairman talking to Nicola Haseler of BBC Look East.  Her report was aired on Wednesday June 14.
The first article was in the Sunday Telegraph about the threat to land near E M Forster's childhood home.  Next day there was an article in The Times along the same lines but adding the (new to us) fact that eminent people of the time, John Betjeman, Vita Sackville West, W H Auden among others, had expressed their alarm to The Times in the early 1960s about the compulsory purchase of what we know of as Forster Country.
After a decade of work on the Poston papers, John Alabaster has produced a glossy book encapsulating much of the previous works. As the title suggests, it is a full list of works published or not, set in a biographical context.  Though more expensive than earlier subsidised works, it is for anyone interested in her or neglected female composers of her era. It is available at Lulu.com page http://www.lulu.com/shop/john-alabaster/elizabeth-poston-catalogue-of-works-with-biographical-context/paperback/product-23663053.html#expand_text