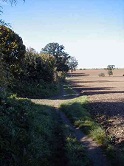 Most of you will know that the Stevenage Borough Council Local Plan Examination commenced in January this year and finished at the end of March. Committee members of Friends of the Forster Country were present at seven of the Hearings and spoke with varying degrees of success at all of these, covering housing need, transport, heritage and Green Belt, with further sessions on land allocation and site specifics.
Importantly, we employed two London barristers from Grays Inn Court, the senior of whom, Michael Jefferis, represented us at four of the Hearings.
There is no denying that this is a tough fight to save Forster Country. We argued that the assessed housing need was too high but the SBC reports, although containing some elements of subjectivity, were reasonably soundly prepared. The Inspector accepted that congestion in the north of Stevenage would be significantly exacerbated by the increase in housing but intimated that this would not be intolerable. We emphasised the historical and heritage value of Forster Country and this was noted. We made our views known strongly that Forster Country is Green Belt and the exceptional circumstances which would allow its destruction do not exist.
On the question of housing sites available and how any over and above the original Plan might take the pressure away from Forster Country we were able to suggest several options. We said that the Icon Building which was previously leased by Betfair has been earmarked for 540 dwellings in the form of high rise apartment blocks. This is a brownfield site that appears not to have been identified by SBC. We also pointed out that SBC had increased the numbers of available sites since production of the Plan and also that the allowance for windfall sites appeared meagre. Michael Jefferis took the view that the SBC buffer of around 600 dwellings, the further sites identified and a general conservative approach meant that the case for taking greenbelt is not strong enough.
We put up a particularly strong performance on 23rd March covering SBC's intention to regard Forster Country as a Housing Site Allocation. Margaret Ashby was able to impress on the Inspector the importance of the heritage aspects of the area and Anne Conchie representing the Ramblers augmented our case. Michael Jefferis said that building on Forster Country would in itself destroy the Conservation Area as the whole point of this area was to provide a window on to open countryside as evinced in E M Forster's words. He also talked about the heritage aspect including Forster's view in his later life about the attractiveness of this countryside. Margaret Ashby backed this point. He also talked about lack of acute need as the objectively assessed need is based on statistics only and introduced the precedent of the Calverton Case (Nottinghamshire) to back our argument. He also made reference to the original purpose of Stevenage and the semi rural life offered when Stevenage New Town was first planned. SBC's lawyer, Simon Bird QC, was very attentive to these points. Discussion also ranged over landscape issues and traffic congestion brought about by development on Forster Country.
During the Hearings we have worked in conjunction with CPRE, Graveley Parish Council and individuals who have spoken at the Hearings either as FoFC members or as residents wishing to preserve our countryside.
SBC will now produce a final document to go to the Inspector in early April and they hope this will be issued to the general public on 5th June for a six week consultation period when we will be able to make further representations. SBC will then re-issue this with comments to the Inspector with a target of early October for return to SBC as 'accepted', 'accepted with minor modifications required' or 'accepted with major modifications required'.
The SBC Executive will then formally accept or reject the Inspector's findings before seeking a full Council mandate for their decision towards the end of the year. If this mandate is given implementation could commence in early 2018.
We are profoundly grateful to all those who contributed to our fighting fund to pay our legal fees. This enabled us to pay for the first two attendances by Michael Jefferis. We now have to find some further money to pay for the final two. We are reluctant to ask for further support but we are at present reliant on the generosity of our committee members who have already been exceptionally generous. So if you are able to help further we would be deeply indebted to you. We remain hopeful that the Inspector will be sympathetic to our position.
John Spiers