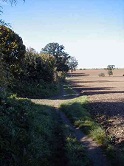 Our long-serving Secretary is retiring at our next AGM.  Other committee members have helped in the past or feel unable to replace her.  Please is there anyone who will join us and become Secretary.  It is not onerous but please ask for details (Contact Us button) if you need help deciding.
At a recent meeting with a planning expert, the Planning Manager of CPRE Hertfordshire, we discussed the current Levelling-Up and Regeneration Bill. It was felt that this could help our cause as it gives more power to local communities with 'street votes' and encourages residents to play a more active role in shaping the design of new development in their area, whilst balancing the aspirations of Local Authorities. This may be "closing the stable door" but with the possibility of a Local Plan review on the horizon we may yet be able to continue the fight to save Forster Country.
Anne Henshaw, CPRE Wiltshire chair, has broadly welcomed this bill, but has warned that the government must strike a delicate balancing act between reacting to short-term emergencies such as rising prices and longer-term goals such as protecting the environment. We are reviewing the reaction of other areas in the UK.

At the same meeting it became clear that the outline planning application for dwellings on Forster Country has not yet received the final go-ahead from the SBC Planning Department, this being a formal process which follows on from the decision by the SBC Planning Committee. A delay might allow the provisions of LURB to be taken into account
John Spiers
It was very disappointing to read in The Comet of a 'climate emergency in 2019', it has been known for several decades. Any reference to increasing biodiversity is insulting when everyone can see concrete being poured over wildlife habitats. The bold target claimed for Stevenage of carbon neutrality by 2030 is cloud cuckoo land. SBC's only method of addressing this seems to be to force people out of their cars.
As a regular walker and cyclist myself I can see merit in reducing car usage. But in Stevenage and Hertfordshire in general the car represents a huge measure of freedom for most and is often a necessity. The Comet have published letters many letters on this topic. The problem is the Local Plan which requires the now unnecessary extra 7,600 dwellings in Stevenage (UK birth rate is now around 1.6 per couple) and is part of a Council that seems obsessed with going far beyond this, converting Stevenage into a totally urban locality from which many wished to escape. This Local Plan includes the requirement to emit more CO2, not less. The insulation standards for the new dwellings are merely to Building Regulations requirements which do not give carbon neutrality. The use of carbon saving features such as solar panels and, potentially, heat pumps has been rubbished within this plan.
We need better ideas than merely making life difficult for drivers. There is an overall issue of travel. The Stevenage Local Plan was peddled on the basis of providing accommodation for London commuters as well as locals. That was stated clearly at the hearings. Many of those commuters may now prefer to work from home, travel in less often and so have greater choice of where to live. Don't force local people to cycle in undulating terrain in the cold and rain to the doctor, the dentist and goodness knows where else for the sake of those lost commuters.
Letter to Stevenge Comet, shortened for this website
"What is the good of your stars and trees, your sunrise and the wind, if they do not enter into our daily lives?"
Since 2020, Forster Country has, perhaps like never before in the history of Stevenage, become so important to our lives.
The pandemic, with all its uncertainties, highlighted the healing qualities of nature. Octavia Hill, one of the founding members of the National Trust, summed it up best when she said, "We all want quiet. We all want beauty … we all need space. Unless we have it, we cannot reach that sense of quiet in which whispers of better things come to us gently"
"The present flowed by them like a stream. The tree rustled. It had made music before they were born, and would continue after their deaths, but its song was of the moment."
I have a profound love of trees which began as a child when I would climb the horse chestnut trees in The Avenue to relieve them of their conkers. Forster Country has been my playground for 45 years and I still climb an ancient oak tree there. I have often wondered if this is the oak tree that gave Stevenage its Saxon name 'Stithen-ac'–'Place of the strong oak?'
"They had nothing in common but the English language."
This quote makes me 'smace'–smile and grimace at the same time–well if Shakespeare could make up words, I don't see why I can't? I smile because Forster's use of humour here expertly evokes the great gulf that can exist between two people that even language cannot bridge. I grimace because, for me, it also encapsulates the gulf between those who wish to save Forster Country and those who wish it to be concreted over.
"But this is something new!" said Mrs Munt, who collected new ideas as a squirrel collects nuts."
Forster uses both humour and words to paint Mrs Munt's character wonderfully. He also hints at the possibility that her ideas are nutty too. It will take some, 'out of the box' thinking to save Forster Country now but we are open to all your ideas.
"Live in fragments no longer, only connect."
Omnia vanitas - all is ego. It is the ego which creates the illusion that we are individuals. It is nature that confirms that everything in the universe is connected. This is why it is so important to connect with nature and live in fragments no longer. This is why it is so important to fight to protect it.
"Nature pulls one way and human nature another."
We are living in a time of climate change and the human race is sleepwalking towards extinction. Our situation can appear overwhelming and, if we are to turn things around, it will take all of us doing something, rather than a few of us doing everything. You cannot do all the good in the world but the world needs all the good you can do. That is why the fight for Forster Country is such an important one.
Paul Sear