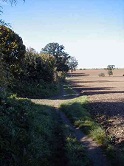 The countryside certainly came into its own during the past year and as with every cloud there is a silver lining, which for us was an increase in membership. A number of people wrote to tell us that they had 'discovered' the Forster Country during lockdown and of course last April, the area was looking its best. Thanks to the glorious sunny weather there were any quantity of celandines, primroses and violets in the churchyard, cowslips, stitchwort and bluebells blooming along the pathways and blackthorn, cherry and hawthorn producing frothy clouds of white blossoms in the hedgerows. The Avenue too was a delight with white chestnut candles scenting the air and slowly falling like confetti.
Suddenly people were everywhere. In place of the usual runners, pedestrians and dog walkers, crowds descended and it felt that a fairly quiet byway had turned into a motorway. Families with young children, pushchairs and dogs, runners, cyclists, horse riders, young and old, fit and not quite so fit… everyone wanted to be out in the fresh air. I lost track of the number of people I chatted to who told me they had no idea that such a treasure lay on their doorstep.
As the footfall increased, so the pathways widened as people tried to observe the two metre rule. Others abandoned the designated footpaths and created their own routes, walking along field edges and down farm tracks, stopping for a picnic on occasions, enjoying the wonderful view across to the Chilterns and listening to the song of the skylarks and the mewing of kites and buzzards.
Spring turned to summer, dog roses appeared in the hedges and spindle trees, with their tiny flowers, lined the route out towards Chesfield Lodge and Back Lane, the road which descends to Graveley past the chalk pit. By this time some restrictions had been lifted, however there were still people in evidence everywhere. Some of our committee members did a head count at the churchyard kissing gate and recorded between 100 and 150 people using the area each day.
It was very disappointing to read in The Comet of a 'climate emergency in 2019', it has been known for several decades. Any reference to increasing biodiversity is insulting when everyone can see concrete being poured over wildlife habitats. The bold target claimed for Stevenage of carbon neutrality by 2030 is cloud cuckoo land. SBC's only method of addressing this seems to be to force people out of their cars.
As a regular walker and cyclist myself I can see merit in reducing car usage. But in Stevenage and Hertfordshire in general the car represents a huge measure of freedom for most and is often a necessity. The Comet have published letters many letters on this topic. The problem is the Local Plan which requires the now unnecessary extra 7,600 dwellings in Stevenage (UK birth rate is now around 1.6 per couple) and is part of a Council that seems obsessed with going far beyond this, converting Stevenage into a totally urban locality from which many wished to escape. This Local Plan includes the requirement to emit more CO2, not less. The insulation standards for the new dwellings are merely to Building Regulations requirements which do not give carbon neutrality. The use of carbon saving features such as solar panels and, potentially, heat pumps has been rubbished within this plan.
We need better ideas than merely making life difficult for drivers. There is an overall issue of travel. The Stevenage Local Plan was peddled on the basis of providing accommodation for London commuters as well as locals. That was stated clearly at the hearings. Many of those commuters may now prefer to work from home, travel in less often and so have greater choice of where to live. Don't force local people to cycle in undulating terrain in the cold and rain to the doctor, the dentist and goodness knows where else for the sake of those lost commuters.
Letter to Stevenge Comet, shortened for this website
This service was held on Saturday, 25 September at Holy Trinity Church, High Street, Stevenage, SG1 3DB
Margaret spent all her life in Stevenage. Professionally, she was heavily involved in education and personally was involved in many local organisations, notably the Betty Game Trust as well as the Friends of  the Forster Country which she founded with her friend John Hepworth.
She worked tirelessly to defend Forster Country applying her diplomatic skills to the task over a period of more than 30 years. She emphasised the beauty of the Forster countryside with its views of the Chiltern Hills some 8 miles distant. These views would have been those loved by E M Forster on his wanderings as a child and adolescent to Graveley or Weston. He described this countryside as the loveliest in England.
She was hugely knowledgeable about the life of E M Forster who lived at Rooks Nest House between 1883 and 1893, overlooking what we now call Forster Country. She understood his realisation about the unjust nature of class in our society. She was instrumental in the purchase and placement of the "Only Connect" monument in St Nicholas Churchyard at the very edge of Forster Country. Forster used this to mean connection between the head and the heart, the cerebral and the passionate and Margaret followed this mantra always retaining a balance between clear logic and a sympathy for people's feelings.