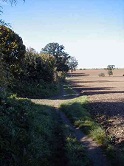 Stevenage MP Stephen McPartland asked Sajid David, Secretary of State for Communities and Local Government to call-in the Stevenage Local Plan.  Mr Javid has taken the first step by writing to Sharon Taylor directing her to take no further action until he has finished deliberating. 
    Admittedly, the reasons given are concerns over the town centre and the rail station but let us hope he also considers the possibilities of the ICON site. 
     WATCH THIS SPACE
The report by the Inspector who examined the Stevenage Local Plan is published and is now in the public domain.
 
http://www.stevenage.gov.uk/have-your-say/council-meetings/182244/190538/
 
Under agenda item 5 click on "Report & Appendices attached" and go to p17 according to computer count but 53 printed at bottom of first page. The report is just over 30 pages long plus a table of "Major Modifications".  This report represents an immense disappointment and a source of sadness for those of us who for many years have been trying to keep Forster Country open as farmland
 
We thank the many people who have supported us through the years and especially those who contributed to pay for the barrister who fought on our behalf at the Hearings.
 
We believe that the Inspector has far reaching powers and that now she has deliberated and come to a conclusion, our ability to continue to protect Forster Country is very significantly curtailed.
 
On our 3 main planks there has been no change recommended by the Inspector.
 
On the subject of Green Belt which was a major defence of Forster Country, the Inspector's report says that the need for housing is in itself the exceptional circumstance justifying the destruction of the Green Belt. Obviously we did not agree at the hearing.
 
We were also dubious about the source for the proposed dwelling numbers.
 
The argument that North Road which is already the most congested road in Stevenage and will worsen with the new development was noted in some amendments. But SBC want to persuade people to walk, cycle or catch buses; the Inspector supported these ideas.
 
We will be asking our lawyer what further steps we can take to resist the development. We also intend to object at the planning permission stage associated with the development.
If any of you have further ideas please let us know.
The annual walk across Forster Country to celebrate the author's birthday will take place on Monday, 1st January, 2018. All welcome. Meet at the lych-gate of St. Nicholas' Church, Rectory Lane, Stevenage SG1 4DA at 2pm. Refreshments in the shelter of the Parish Room in the church afterwards.
At the AGM 2016 we launched a new booklet on Forster Country with contributions from some patrons and from our chairman.  The Foreword is by Ronald Blyth, acclaimed rural living writer, best known for Akenfield. There are many illustrations, all but historic ones in colour.  It was edited by our co-founder Margaret Ashby, herself a patron and recently winner of the CPRE Peterkin Award.
This year marks 50 years since the decriminalisation of homosexuality in this country and the anniversary has been celebrated widely in the media and in the gay community. We cannot let this pass without wondering what difference this would have made to E M Forster's life and work.
Forced to conceal his sexuality in his conventional, middle-class family and judgmental society, his literary expression may also have been repressed. 'Maurice', his only attempt to write about same sex love, was written in 1914 but only published posthumously, in 1971.  Apparently this was his wish.
Said to be modest and retiring by nature, he would not have wanted to upset or even outrage; he evidently lacked the audacity of the Bloomsbury circle with whom he was friendly or maybe was more philosophical about his situation.
His last novel 'A Passage to India' was published in 1924, when he was 45, and for the rest of his life - he died aged 92 in 1970 - he produced non-fiction and made broadcasts. He maintained a high reputation, was nicknamed the 'holy man of letters', but despite this was not awarded a Nobel Prize for Literature. Perhaps he would have been had his imagination not been fettered by the law of the land. What did he think when it was reformed three years before he died? Did he even care?