The writer Edward Morgan Forster lived at Rooks Nest House from 1883 to 1893, from the ages of 4 to 14. In later life he returned there often, as the guest of composer Elizabeth Poston. 
His novel Howards End was inspired by his childhood home and its surrounding countryside. Forster's writing is studied in schools, colleges and universities throughout the world.   His work is concerned with themes that are still current today, including:-  
human relationships,
conflicts of loyalty               
the need for connection between apparent opposites such as commerce and culture, poetry and prose,                      
He is constantly quoted in newspapers and has the distinction that one of his short stories is available in full on the Internet.
Written by

M.M. Ashby
It has been said of the musician, Peter Warlock (nom de plume for Philip Heseltine) that he could not be understood if the girls in his life were 'indicated only in the most shadowy way'.  By the same token, we cannot fully understand Elizabeth without knowing more of her relationship with her friends, including the men in her life, particularly Phil, as she called him, around whom there had long been an atmosphere of mystery which Elizabeth herself had helped to maintain, consistently refusing, when asked, to talk about it in any detail.
 At the time of her death, no correspondence between them was forthcoming and it was assumed that any such had been included in the material destroyed, at her instruction, by her nephew Jim Poston.  Nothing between them was included within the collected letters of Peter Warlock published in 2005, although a short portion of one from Elizabeth to Warlock's mother, written in February 1931 following his suicide the previous December showed that she had known him very well and that he was 'fine & generous & great-hearted & all love & admiration for him only grow greater'.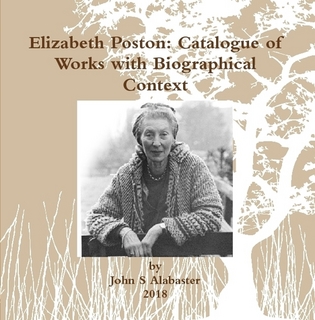 After a decade of work on the Poston papers,
John Alabaster has produced a glossy book encapsulating much of the previous works. As the title suggests, it is a full list of works published or not, set in a biographical context.  Though more expensive than earlier subsidised works, it is for anyone interested in her or neglected female composers of her era. It is available at Lulu.com page http://www.lulu.com/shop/john-alabaster/elizabeth-poston-catalogue-of-works-with-biographical-context/paperback/product-23663053.html#expand_text
Written by

Anne Conchie
Rooks Nest House, was a beloved home to both E M Forster and Elizabeth Poston.  He lived there with his widowed mother during his young, formative years of four to fourteen and there, educated at home, he set deep roots, exploring the neighbouring countryside and developing an interest in gardening – including growing tall red poppies – especially enjoying identifying the local flora. In his earliest known teenage writings he said 'the surroundings of the house were altogether very pretty, first and foremost the fine view'.  His affection for his home was profound since it represented stability and security and so he was distraught when he had to leave it to be educated away, first in a boarding school at Eastbourne and finally as a day-boy at Tonbridge in 1893. His mother had socialised with the local gentry including Charles Poston and family, recently arrived at a nearby large Georgian Manor, called 'Mallows' but later renamed 'Highfield'.  The family made a lasting impression on the 7-year old Forster.

Written by

Anne Conchie
Among the works missing from Elizabeth Poston's archive of music that was left at Rooks Nest House, after she died in 1987, was her Concertino da Camera on a Theme of Martin Peerson, written for early instruments in 1957 and based on a transcription by her friend, Marylin Wailes; all that could be found among her papers was a single MS title-page.  The work, described by a critic as new wine poured successfully into old bottles, had been dedicated to Marylin and her London Consort of ancient instruments.